CubaDupa is committed to providing an accessible and welcoming experience for festival-goers with specific requirements or additional needs. We hope that this information will help you to prepare for CubaDupa. We have a great team at the festival who will be happy to assist you in any way they can. If you have any questions about accessibility at the festival, please don't hesitate to contact us at [email protected]
The information below should give you a good idea of what to expect from the festival.
Audio & Video Site Tour

This year we have made an audio and video tour of the festival site. This is a fun and interactive way to prepare for CubaDupa and familiarise yourself with the different stages and zones.
You can download a written transcript of the tour here: video transcript 
CubaDupa Site Map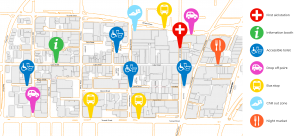 Access throughout the Site 
CubaDupa is located in Cuba Street and the surrounding cross streets. Most of the streets in this area are closed to traffic, so you can walk down the middle of the road. For those using wheelchairs, this means you won't need to navigate curb cuts as much as you usually would. Keep in mind that the festival attracts large crowds, which can cause walking and navigating through the site to move slowly.
Information Booths
There are two information booths. The first can be found at 220 Cuba Street, outside the Wellington Seamarket. The second is at 33 Ghuznee Street on the edge of the Kāpura  Carnival and Cabaret zone.
The information booth is often the first port of call with any query or question. Our volunteers will be happy to go through the programme with you, help with lost property, or point you in the right direction. 
First Aid

Basic first aid can be found at the two information booths.There will be an ambulance stationed beside the rainbow crossing on Dixon St. In the event of a medical emergency please alert our staff so that a medical professional can reach you as soon as possible. You can identify our staff and volunteers by their high-vis vests, blue vests and lanyards.
Pickup and drop off points
There are two accessible drop off and pick up zones. The first one is at 15-21 Abel Smith Street, outside Plumbing World.  The second is at 139 Victoria Street, near the bus stop on the corner of Dixon and Victoria. 
Toilets
We provide at least one accessible toilet at each main toilet block throughout the site. There are four sites where accessible toilets will be available, they are located at:  
On the corner of Garrett St and Cuba St.

Corner of Kelvin Grove and Abel Smith St.

Corner of Ghuznee St and Leeds St. 

At the permanent toilet block in Te Aro Park, off Dixon St.
We know many people rely on accessible toilets and we'll be keeping an eye on them to make sure they're maintained to a good standard. If you find this is not the case, please tell a CubaDupa volunteer or a person in the information booth. 
Chill out zone
CubaDupa can be a busy environment, so we'll be providing a quiet space for you to use whenever you need. It will be located at St Peters Church on 211 Willis St. This Chill out zone will provide maps, programmes, seating, water, toilets and a place to charge your phone. Volunteers will be stationed here throughout the day to help you if you need assistance. 
This page will be updated periodically with futher details around additional chill out zones and a sensory touch tour. Check back here closer to the festival to find out more. 
For any questions regarding accessibility at the festival don't hesitate to get in touch.

Email: [email protected]