These are the folks behind your favourite inner-city celebration.
Gerry has recently taken over as Festival Director of CubaDupa after four years working as the Music Programmer and running the Moore Wilson's Street Feast. Festivals are his happy place and he has played music at over 500 festivals in over thirty countries with some of the biggest names in folk music. Gerry co-founded Coastella Music Festival and NZ Irish Fest as well as having programmed the music for many Wellington events including Beers at the Basin, Beervana, Wellington Wine & Food and Budburst. As well as being always on the hunt for acts that will bring magic to Cuba St, Gerry spends his spare time plucking a banjo or spearfishing around Wellington's coast and is always looking for new ways to cook kai moana - his latest favourite being paua & wild pork sausages!
Bianca has got the communications on lock, and is a new addition to the CubaDupa team. In between studying international relations she's spent the past few years helping with Auckland Folk Festival and more recently Eyegum Music Collective's "Welcome To Nowhere". When she's not working with the coolest festivals or finishing up her arts degree you can catch her around Wellington either rocking the drums in local bands SOG and Lilith or sporting a guitar for her dink riff rock alter ego Wiri Donna.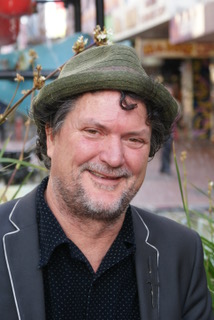 Drew's career spans over 25 years in performing arts
management, event management, and festival direction. He was
the first Producer for WOMAD (World of Music Arts and Dance) in
Auckland, was Artistic Director for two Erupt Lake Taupo Festivals,
and as the Artistic Director for Taranaki Arts Festival Trust,
programmed four WOMAD festivals, and three Taranaki
International Arts Festivals. Drew was the founding Executive
Producer for PANNZ Tour-Makers, New Zealand's Performing Arts
Touring Agency 2015 – 2019.
Drew was the founder and creative force behind CubaDupa street
arts festival in Wellington founded in 2015. His love of Cuba
Street, with its unique energy and creative spirit, inspired his vision
to create an interactive street arts festival that celebrates diversity,
creativity and street culture. Drew was Artistic Director from 2015
– 2019 and continues to contribute as Artistic Advisor.
Nicholas Balkum has been working in the world of live entertainment for 11 years. He was involved with some large scale music festivals in the US before relocating to Wellington, NZ. At this stage he is focused primarily on the rigging side of live entertainment, including touring with Cirque Du Soleil's Kooza, working with their aerialists and acrobats. Most recently he was the Head of Rigging for the 2019 World of WearableArt Award Show. He will be taking on the role of production manager for the first time and in his words is excitedly terrified.
Anna is a seasoned, award winning strategic marketer, with a decade's worth of experience in both strategic and tactical marketing communications roles across the globe, in addition to an MSc in International Marketing. Anna specialises in tourism, entertainment, arts & festivals. Previous roles include Global Head of Marketing for Topdeck Travel, Global Brand Marketing Manager at VisitBritain and Media Relations Officer at Festivals Edinburgh where Anna managed international media at the Edinburgh Festivals for three seasons, working across Edinburgh's 12 major festivals, supporting the joint strategic development of Edinburgh and its Festivals.
Keely is a freelance manager who has been working across the globe to make installations, theatre and festivals happen. She specialises in making unique events and innovative ideas a reality. Keely recently worked on the Prague Quadrennial, Edinburgh Fringe Festival - Street Events, LUX Light Festival, Porirua Waitangi Day and Capital E's Makerfaire. Keely is thrilled to be taking on Operations for CubaDupa 2020!